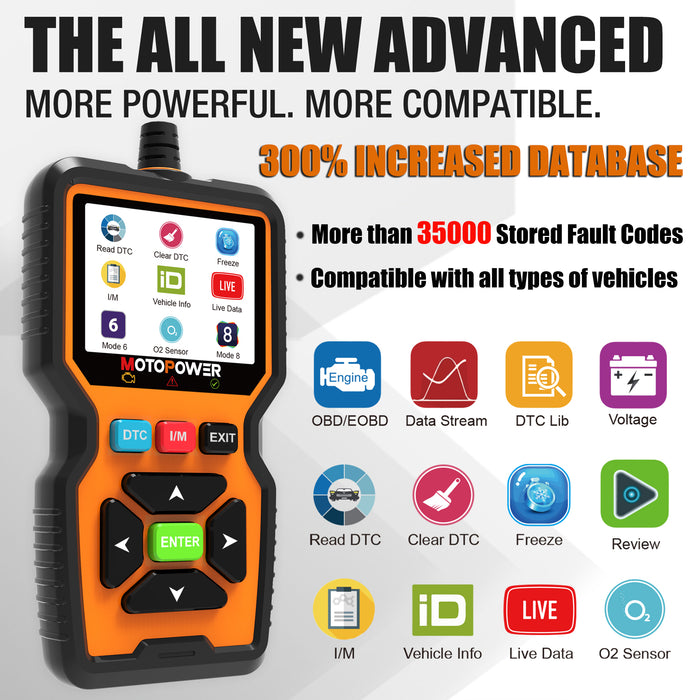 MOTOPOWER MP69039 Car OBD2 Scanner Code Reader Engine Fault Code Reader Scanner CAN Diagnostic Scan Tool Advanced Edition
🅰️【Advanced Edition】- Practical Multi-Functions OBD2 code reader features built-in OBD2 DTC lookup library, which help you to determine the cause of the engine light, read code, erase code, view freeze frame, I/M ready, vehicle information, data flow, real-time curve, get vehicle speed information, calculate load value, engine coolant temperature, get engine speed.

➡️【Wide Capability】- Supports 9 protocols compatible with most 1996 US-Based, 2000 EU-Based and Asian cars, and newer OBD II & CAN domestic or import vehicles. Supports 10 languages - English,German, Dutch, Spanish, French, Italian, Russia, Chinese, Japanese and Portuguese. Designed with a clear display 2.8Inch TFT screen (240 x 320 pixels). No need any battery or charger, OBD reader gets the power directly from your vehicle through the OBDII Data Link Connector.

👍【Professional Level Diagnostic Tool with Enhanced Coverage and Functionality】- The Scanner empowers home mechanics, automotive enthusiasts, and service & repair technicians with professional-level functionality. It is a vehicle code reader that reads and clears OBD engine codes and displays all vehicle information from when a trouble code was triggered.

🚗【Easy self-diagnosis of emission status and other important information】- Know your smog check results before your state does. The scanner determines whether you'll pass a state vehicle smog test. It can also provide trip cycle procedures for completing your smog check.

💡【Deeper Level Data Analysis】- More than one hundred engine system datas to be checked in graphic view. Accurately analyze the data to better understand your vehicle condition.

🔂【Data Print & Lifetime Free Upgrade】- Download the MOTOPOWER MP69039 Print & Update Program directly from our website. You can print the testing Data easily with your computer (Windows System Supported only). Also you can update the device with the latest program which can be downloaded from the MOTOPOWER website.

📌【ABS / Airbag / SRS codes NOT Supported】- It is able to read and clear check engine information which is part of OBDII system, but it cannot work with non-OBDII systems, including ABS / Airbag / SRS / Oil Service Light, etc.