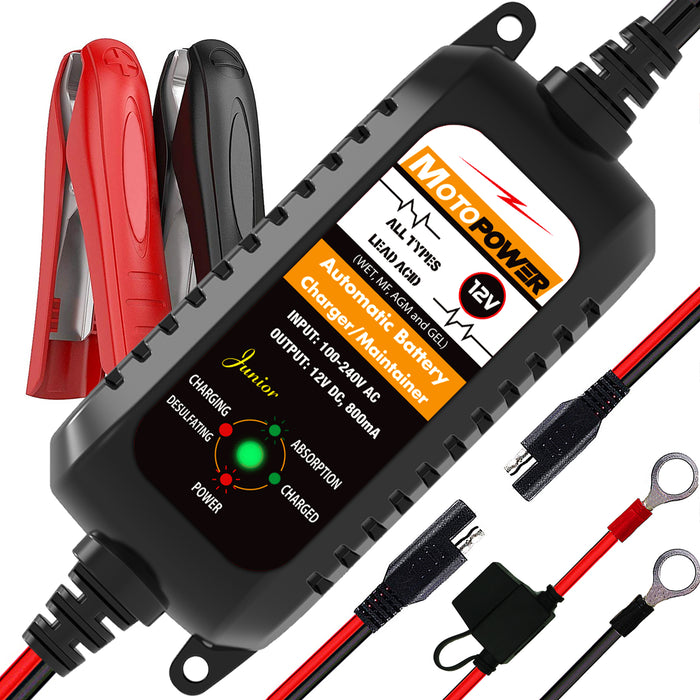 MOTOPOWER MP00205A 12V 800mA Fully Automatic Battery Charger/Maintainer for Cars, Motorcycles, ATVs, RVs, Powersports, Boat and More. Smart, Compact and Eco Friendly
✅

【Charger, Maintainer & Desulfator】 - An all-weather battery charger, battery maintainer, trickle charger, and battery desulfator. Perfect for charging and maintaining all 12-volt lead-acid, flooded or sealed maintenance free batteries (AGM and gel cell). ETL safety standard Listed.

✅

【Automatic Desulfation & Optimization】 - Automatic detection of battery sulfation problem. Applying with pulse current technology to desulfate the batteries effectively. Optimize the battery performance during charging without any manual operation.

✅

【Energy Saving & Spark Free】 - Zero output in standby mode. No battery drain when connecting with the battery. Spark proof during lead connection for safety.

✅

【ETL/UL Certified, Multi-level Safety Protection & Timer Set Up】 - ETL safety certified. Overcharge, short circuit and reverse polarity protected. Charge the battery up to 14.4V and Maintain the battery at 13.6V for long time to avoid gasing and to extend the battery life. 24-hour Timer is set up in the program to terminate the charge and enter the maintaining mode once the voltage is above 14V to ensure safety.

✅

【Easy Operation】 -Just plug-in, connect to the battery and start charging or maintaining your battery. The desulfation is working automatically during the charing. No manual operation.

✅

【Warranty】- 2 Year Warranty AND 100% SATISFACTION SERVICE. If you are not pleased with the product, please contact motopower directly for hassle-free return and refund. Save your bucks and time.