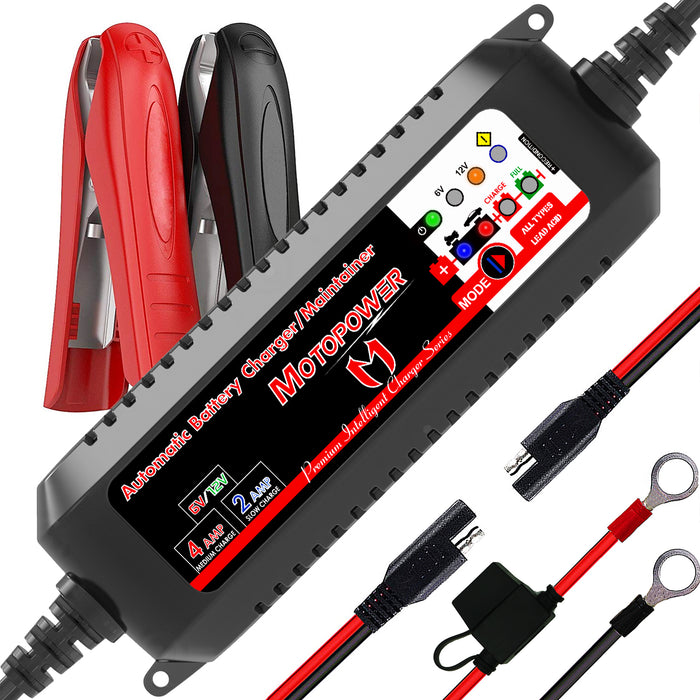 MOTOPOWER MP00207 6V and 12V 4AMP Automatic Smart Battery Charger, Battery Maintainer, Battery Desulfator with Force Charging Recondition Mode
✅ An intelligent battery charger and maintainer for all types of 6V and 12V lead-acid batteries, including Conventional Flooded (wet), Factory Activated Maintenance Free (MF/FA), Absorbed Glass Mat Maintenance Free (AGM), and Gel (Gel Electrolyte) type batteries. Input Voltage: 100-120V AC

✅ FULLY AUTOMATIC - Voltage Auto Detection for 6V or 12V batteries - Dead battery detection and warning - Plug and go for charging and maintaining. The microprocessor controlled program will monitor the whole charging progress and automatically stop when the battery is fully charged. Then it will monitor the battery voltage and maintain the battery with a float charging current.

✅ 7 CHARGING STAGES & Repair Mode - Diagnosis, Soft Start, Bulk Charge, Absorption, Float, Maintenance and Recovery.Two charging rates (2Amp or 4Amp) can be selected to charge 12V batteries in different capacities. 2 amp charge rate for 6v battery. Repair mode for sulfated batteries.

✅ SAFETY ENSURED - Advanced micro technology ensure the safety against overcharge, short circuit and reverse palarity. Spark free technology.

✅ LED INDICATION & SAE QUICK CONNECTION - Easy to read LED lights indicate power on, 6v or 12v mode, 2 amp or 4 amp charge rate, and battery charge status.Includes SAE quick disconnect Battery Terminal and Alligator Clip leads for ease of use.