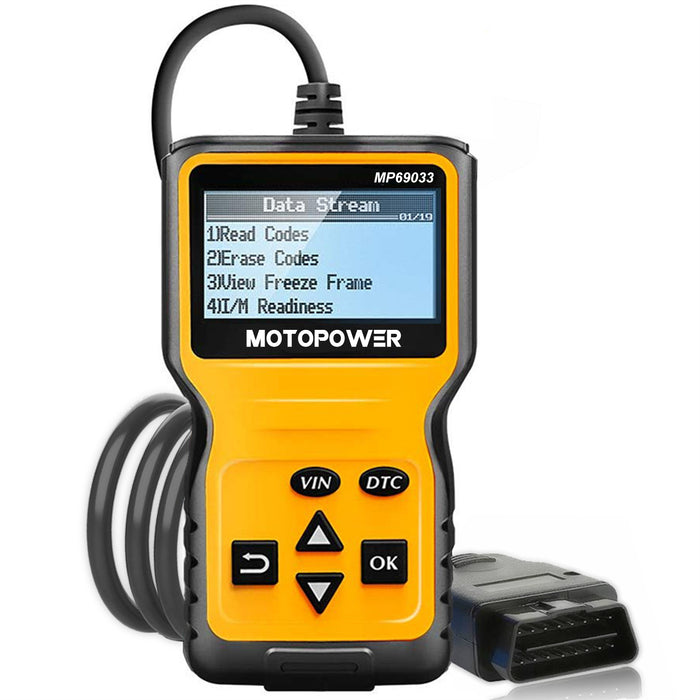 MOTOPOWER MP69033 OBD2 Scanner Universal Car Engine Fault Code Reader, CAN Diagnostic Scan Tool for All OBD II Protocol Cars Since 1996
✅【Multi-Functions】- Practical Multi-Functions OBD2 code reader features built-in OBD2 DTC lookup library, which help you to determine the cause of the engine light, read code, erase code, view freeze frame, I/M ready, vehicle information, data flow, real-time curve, get vehicle speed information, calculate load value, engine coolant temperature, get engine speed.

✅【Wide Capability】- Supports 9 protocols compatible with most 1996 US-Based, 2000 EU-Based and Asian cars, and newer OBD II & CAN domestic or import vehicles. Supports 6 languages - English,German, Dutch, Spanish, French, Italian.

✅【LCD Display】- Designed with a clear display LCD screen (128 x 64 pixels) - white backlight and contrast adjustment. No need any battery or charger, OBD reader gets the power directly from your vehicle through the OBDII Data Link Connector.

✅【Compact Design】- Car diagnostic scanner is equipped with a 2.5 feet long cable and made of a very thick flexible insulator.There are 6 buttons on OBD2 Scanner:scroll up/down,enter/exit and buttons that quick query VIN vehicle number& the DTC fault code.

✅【Warranty】- TWO YEAR WARRANTY AND 100% SATISFACTION SERVICE - Hassle-free return or refund for any product quality issue. 100% satisfaction service and technical assistance will be provided by contacting our professional customer service team.
 Video Display -
MOTOPOWER is the registered brand of MOTOPOWER INC. We are the direct factory specializing in the eletrical products and accessories for automotive and powersports industry, such as battery chargers, battery testers, cell phone chargers, cables and more. All the products are designed, produced and sold directly by MOTOPOWER. We control all the progress from the very beginning material purchase to the final shipment to customers, so as to ensure the products quality and the customer satisfactory. You can get the best products here at the most competitive cost directly from MOTOPOWER stores on Amazon.
Practical Multi-Functions OBD2 code reader for All OBD II Protocol Cars Since 1996
Product Features:
Multi-Functions

 

- Practical Multi-Functions OBD2 code reader features built-in OBD2 DTC lookup library, which help you to determine the cause of the engine light, read code, erase code, view freeze frame, I/M ready, vehicle information, data flow, real-time curve, get vehicle speed information, calculate load value, engine coolant temperature, get engine speed.

Wide Capability

 

- Supports 9 protocols compatible with most 1996 US-Based, 2000 EU-Based and Asian cars, and newer OBD II & CAN domestic or import vehicles. Supports 6 languages - English,German, Dutch, Spanish, French, Italian.

LCD Display

 

- Designed with a clear display LCD screen (128 x 64 pixels) - white backlight and contrast adjustment. No need any battery or charger, OBD reader gets the power directly from your vehicle through the OBDII Data Link Connector.

Compact Design

 

- Car diagnostic scanner is equipped with a 2.5 feet long cable and made of a very thick flexible insulator.There are 6 buttons on OBD2 Scanner:scroll up/down,enter/exit and buttons that quick query VIN vehicle number& the DTC fault code.

What's in the box

 

- OBD2 Scanner Code Reader x 1, Instruction Manual x 1