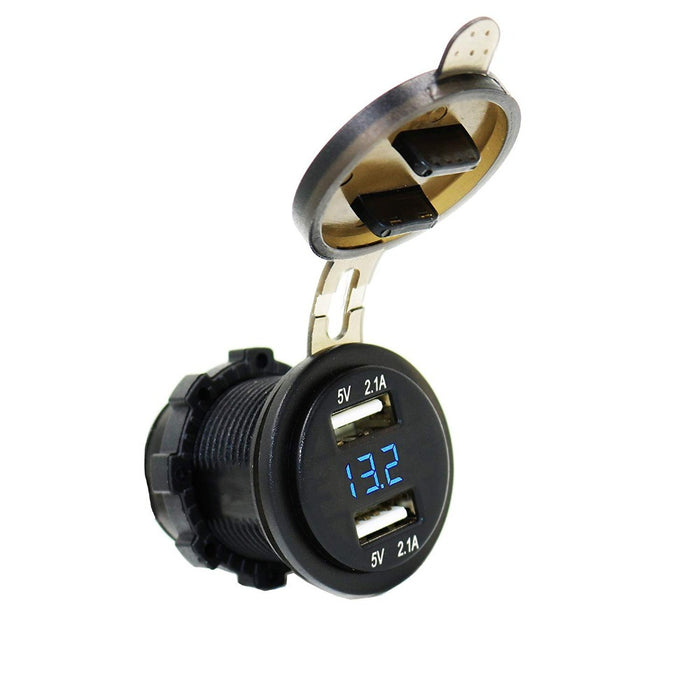 MP0611B USB Charger with Voltmeter and Current Meter-BLUE
               MOTOPOWER MP0611B QC 3.0 USB Quick Charger with Voltmeter and Current Meter LED Display
Real-time Voltage Display - The built-in intelligent voltmeter with Blue LED Digital Display let you know the real-time voltage status of the battery or the alternator. [ The voltage display screen is inside the housing. Connecting it with 12-24V DC power to see the voltage display.]

Dual USB Quick Charge - Dual USB with 2.1Amp output for each(max total output of 4.2A). It can quickly charge almost any smartphones, tablets, GPS, digital camera, PSP/MP3/MP4 and other USB-devices.

Multi-Barrier Safety Protection - It's certified by CE & ROHS with Overload, Over Current and Short Circuit Protection to ensure charging safety. Meanwhile, the built-in reverse polarity connection protection makes sure the circuit will not be burnt out for reverse connection.

Durable & Waterproof - Made of fire-resistant material without worry of danger. The waterproof cap protects the USB ports from outside dust and water.

Easy Installation - Compact design with easy installation.It's a mini size and powerful USB power station for any vehicles, boats, etc.