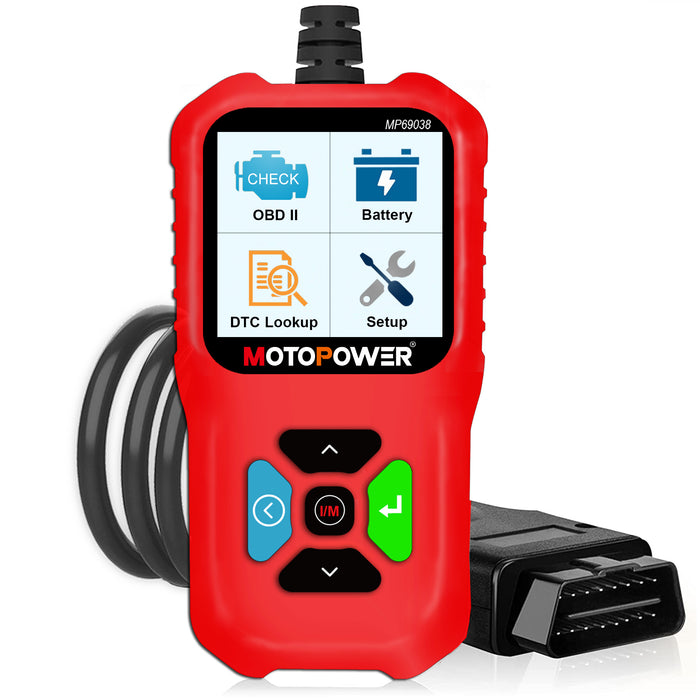 MOTOPOWER MP69038 Car OBD2 Scanner Code Reader Engine Fault Code Reader Scanner CAN Diagnostic Scan Tool - Elite Edition
✅【Elite Edition】- Practical Multi-Functions OBD2 code reader features built-in OBD2 DTC lookup library, which help you to determine the cause of the engine light, read code, erase code, view freeze frame, I/M ready, vehicle information, data flow, real-time curve, get vehicle speed information, calculate load value, engine coolant temperature, get engine speed.

✅【Wide Capability】- Supports 9 protocols compatible with most 1996 US-Based, 2000 EU-Based and Asian cars, and newer OBD II & CAN domestic or import vehicles. Supports 10 languages - English,German, Dutch, Spanish, French, Italian, Russia, Chinese, Japanese and Korean. Designed with a clear display LCD screen (128 x 64 pixels). No need any battery or charger, OBD reader gets the power directly from your vehicle through the OBDII Data Link Connector.

✅【Premium OBD2 Code Reader with Enhanced Coverage and Functionality】- The Scanner empowers home mechanics, automotive enthusiasts, and service & repair technicians with professional-level functionality. It is a vehicle code reader that reads and clears OBD engine codes and displays all vehicle information from when a trouble code was triggered.

✅【Easy self-diagnosis of emission status and other important information】- Know your smog check results before your state does. The scanner determines whether you'll pass a state vehicle smog test. It can also provide trip cycle procedures for completing your smog check.

✅【Compact Design with powerful performance】- Mini size and light weight for easy operation. It helps you easily find the problem and fix the problem.

✅【ABS / Airbag / SRS codes NOT Supported】- It is able to read and clear check engine information which is part of OBDII system, but it cannot work with non-OBDII systems, including ABS / Airbag / SRS / Oil Service Light, etc.