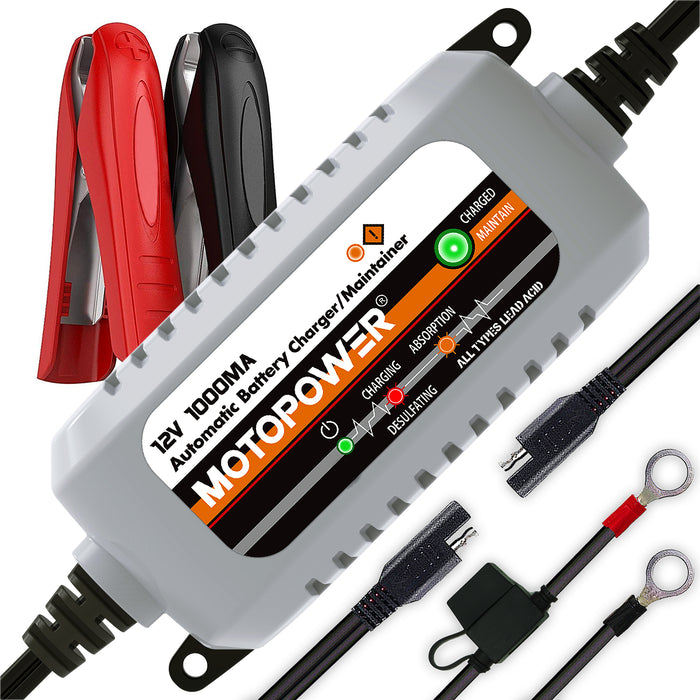 MOTOPOWER MP00205B 12V 1000mA Automatic Battery Charger, Battery Maintainer, Trickle Charger, and Battery Desulfator with Timer Protection
✅【Compact, Robust & Durable 】- Compact size for easy storage. Enhanced plastic case with top grade fire-resistant feature. Perfect for charging and maintaining all 12-volt lead-acid, flooded or sealed maintenance free batteries (AGM and gel cell). Up to 8.5FT 18AWG UL standard cables with SAE quick release connection options: 7.5amp fuse protected Ring Terminals Harness and Fully insulated enhanced 50amp Alligator Clamp Harness​. Works with all devices with standard SAE connectors.

✅【 Recover, Charge & Maintain 】- It's not a traditional charger or maintainer. With the up-to-date charging technology, it applies the pulse charging technology by giving a slight pulse current at the proper stages to boost the battery so as to maximize the battery performance and extend the battery life.

✅【 Multi-barrier Safety Protections 】- Fully automatic operation with safety protections. Simply plug-in and leave it. No worry about overcharge. It will stop charging when charged and then maintain the battery at 13.6V indefinitely. Spark-free technology applied for safety.

✅【 LED Indication & Energy Saving 】- Easy-to-read LED indication to let you know the different modes during the charging progress. Zero output in standby mode without connecting with the battery to save energy. No battery drain when connecting with the battery.

✅【 Two-year Warranty & ETL Safety Certified 】- Energy Saving design with one LED indicator to display different charging status. Certified by CE, RoHS, UL and CEC. Conform to the CEC (​CALIFORNIA ENERGY COMMISSION) standard - BC mark. TWO YEAR WARRANTY AND 100% SATISFACTION SERVICE - Hassle-free return or refund for any product quality issue. 100% satisfaction service and technical assistance will be provided by contacting our professional customer service team.