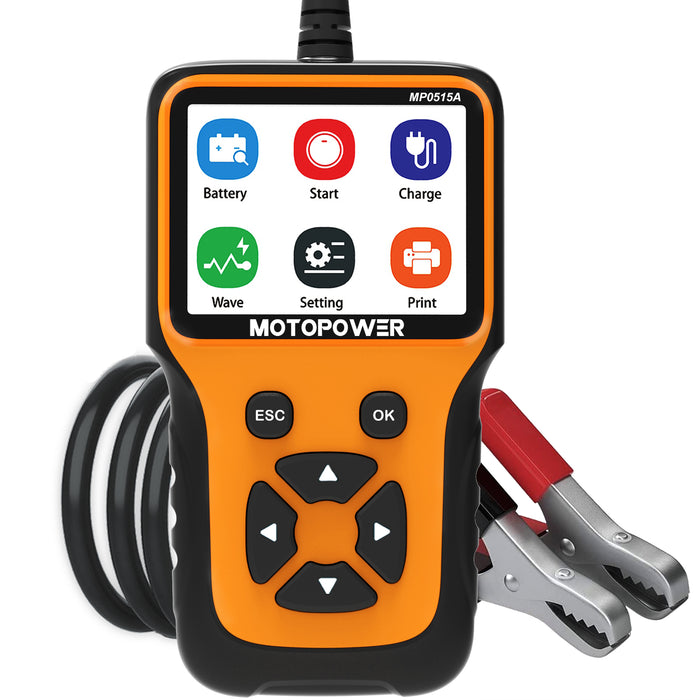 MOTOPOWER MP0515A 12V Car Battery Tester Automotive 100-2000 CCA Battery Load Tester Auto Cranking and Charging System Test Scan Tool Digital Battery Alternator Analyzer
🔥【A MUST TOOL IN YOUR GARAGE】- With the up-to-date testing technology, it provides a quick reading to determine if a vehicle battery needs a jump or replacing and also the alternator output status. All you need to do is just connect and play. Save your time and bucks.

🔥【BATTERY HEALTH CHECK】- Applied with the latest testing algorithm, the tester will scan the battery and get the results in seconds, including the State of Health, the State of Charge, the Internal Resistance and the Testing Conclusion (Poor, Good, Great). All types of 12V 100-2000CCA lead acid batteries can be tested, including Regular Flooded, AGM Flat Plate, AGM Spiral, GEL and EFB. The Battery Standards includes CCA, BCI, CA, MCA, JIS, DIN, SAE etc.

🔥【CRANKING AND CHARGING SYSTEM TEST】- Test the alternator's starting voltage when cranking the engine to see if it's weak or in normal condition. Check the alternator's continuous output when the engine is running so as to see if the alternator provides proper power to the battery and the electrical system. You can view all the testing details in graphs on the screen, including all the slight ripples in milliseconds.

🔥【Real-time Wave View & Data Print】- When you need to know more details about your battery or alternator performance when working, you may use the Wave view function to monitor the real-time output curve. It gives you all the detailed changes view of the output. The testing results can be stored and reviewed on the screen directly. To print the data, just connect the battery tester with the computer.

🔥【3" Full Color LCD Screen & 9 Language Supported】- The 3" Full Color LCD screen (240*320 pixel) is eye-friendly and easy to read. Provides you a more comfortable visual experience at every inspection. 9 languages supported - English, Spanish, French, German, Italian, Russian, Portuguese, Chinese and Polish.