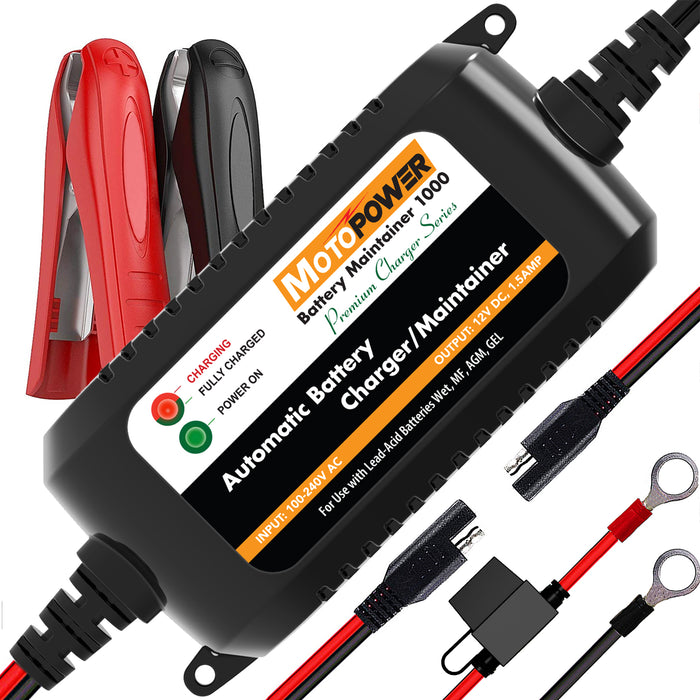 MOTOPOWER MP00206A 12V 1.5Amp Automatic Battery Charger, Battery Maintainer for Cars, Motorcycles, ATVs, RVs, Powersports, Boat and More. Smart, Compact and Eco Friendly
✅【Compact, Smart & Durable】 - It can charge all types of 12V lead-acid batteries, including flooded or sealed maintenance free batteries (AGM & gel cell). It's the best smart charger for automotive, motorcycle, marine, RV, Powersport, lawn&garden, children toys, etc.

✅【Fully Automatic】- No need of any manual operation, just plug and leave it for charging and maintaining your batteries automatically for long time. The microprocessor controlled program will monitor the whole charging progress and automatically stop when the battery is fully charged. Then it will monitor the battery voltage and maintain the battery with a float charging current.

✅【Safety Protection】- Micro-processor Controlled program. No worry about overcharge, short circuit and reverse polarity. Spark-free technology applied. Featured Constant Pulse Current Maintenance function helps the battery avoid excessive charge and discharge.

✅【SAE Quick Release Adapters】- With SAE quick release connection options: Ring Terminals (7.5amp fused for safety protection) or Alligator Clips. With the ring terminal harness connecting with the battery permanently, it's so easy to connect the charger by the SAE adapters when needed. Fuse protection will avoid danger of short circuit or overload.

✅【Two-year Warranty & ETL Safety Certified】- Energy Saving design - No output without load. Certified by CE, RoHS, UL and CEC. Conform to the CEC (​CALIFORNIA ENERGY COMMISSION) standard - BC mark. TWO YEAR WARRANTY AND 100% SATISFACTION SERVICE - Hassle-free return or refund for any product quality issue. 100% satisfaction service and technical assistance will be provided by contacting our professional customer service team.